Customer Service - Help Center
For immediate help call customer service: 1.800.860.2326
WHOLESALE ACCOUNT REGISTRATION
Who can signup for an account at robertross.com?
Thank you for your interest. Robertross.com is a B2B site, meaning we only sell to stores and businesses. A tax-id is required to register for an account.
How do I register for an account?
Signing up for an account is easy.
Please fill out the registration form click here.
After signing up, we will validate your application manually and will notify you via email (usually within minutes but it can take a couple of hours).
Can I browse the website without creating an account?
Yes, however, the website by default does not display prices.
To view wholesale pricing on the website, a wholesale account is required.
What if we have a sales rep that calls on our store?
We are a team and value our sales reps. If you have a sales rep that is actively calling on your store, robertross.com is a useful supplement to the great service they provide.
You can use the robertross.com to browse our product line in-between sales rep visits, scout out new products, or to place an order.
Your sales rep will receive credit for your order.
Do I have to use the website to send in my orders?
Our preferred method of receiving orders is through your sales rep or robertross.com, however you may send in your orders in whatever method is easiest for you and your store.
Send in orders via:
Website: robertross.com
Customer Service: 1-800-860-2326
Fax: 1-800-860-2334
Email: orders@robertrossco.com

Sales Rep
Does Robert Ross & Co. have a minimum order requirement?
There are no order minimums, however you will receive free shipping if your order is over $199.
We realize that not every store has the space for extra inventory. At Robert Ross & Co. you may order in small or large quantities. Customize your orders so they work for your store.
Welcome to our Help Center.
Here you will find answers to some of our frequently asked questions.
Click the + next to a question to expand the answer.
If you still have questions, we are here to help.
1.800.860.2326 or Contact Us.
What are the payment options on robertross.com?
During the checkout process on robertross.com you have the following payment options:
Credit Cards

(American Express, Discover, Mastercard, or Visa)

*our preferred method

Direct Billing

(NET30)

Trading Partner or Co-Op

(

ACE, Do It Best, Emery, HDI, Orgill, or TruServ).
See the screenshot of the checkout process below: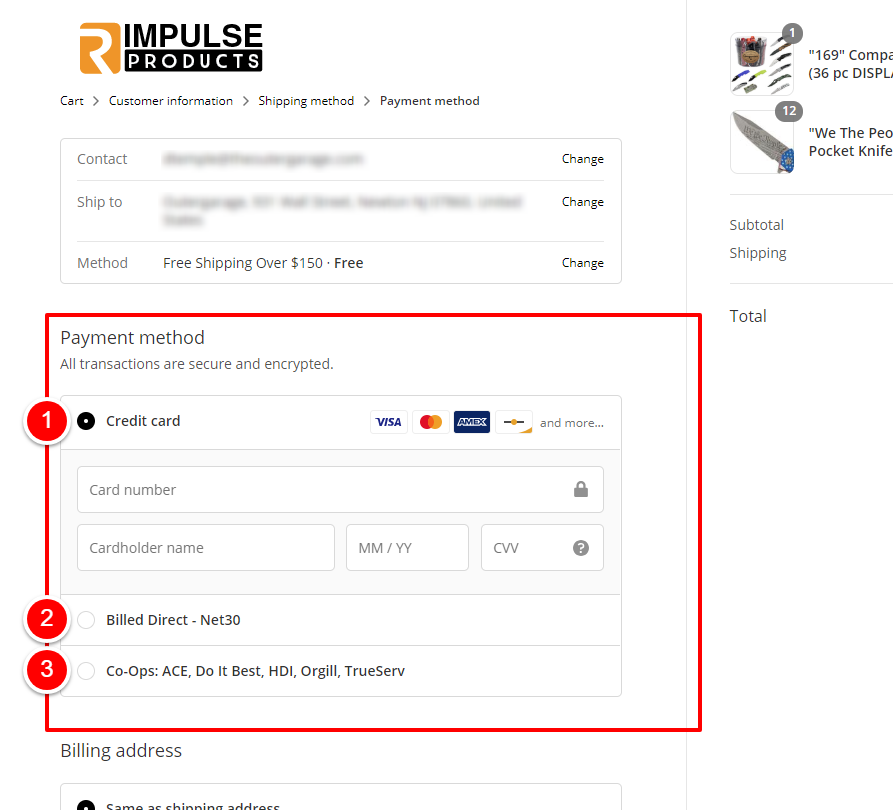 If paying by credit card, when do you charge my card?
Your credit card will be automatically authorized when you place your order, however it won't be charged until your order ships. If there is an out of stock item on your order, you will only be charged for the items that shipped.
Do you offer COD payments?
We do not offer COD payments at this time.
Do you charge for shipping?
SHIPPING CHARGES:
If the order total is $0 - $198 = FLAT RATE SHIPPING $12.95
If the order total is $199 or more = FREE SHIPPING
What shipping company do you use? 
Our preffered shipper is FedEx Ground. They offer us the best rates. However, we also sometimes ship using UPS and USPS.
When will you ship my order and do you provide a tracking number?
Contact us if you need a rush order. We will do our best to accommodate you.
Orders received before 12 PM (EST) are often shipped the same day they are received.

Orders received after 12 PM (EST) are shipped the next business day.
Sometimes we may hold an order for credit approval or if we are out of a product that is expected to arrive to our warehouse within a day or two.
Tracking Number: You will automatically receive an email with your tracking number when your order ships. You will also be able to view your tracking number in your order summary under the My Account section of the website.
Do you ship internationally?
Due to the expensive shipping costs & tariffs, Robert Ross & Co. only ships to the Continental US and Puerto Rico.
After my order has shipped, how long is the transit time?

Why have I received an email saying the item I've ordered is out of stock?
Occasionally we may run out of a product. If the product is expected to arrive within a day or two, we will hold your order. Otherwise we will out of stock the item on your order.
If an item I ordered is out of stock, and my order drops below $199, will I still receive free shipping? 
Yes, after you place your order and we determine a product is out of stock, you will still receive free shipping if your original order was above $199.
Yes, we will backorder an out of stock item(s) if the total cost of the backorder is above $75. Your packing slip will indicate this.
Is there a way to be notified of new products and specials? Do you have an email newsletter?
Absolutely! You can signup for our email newsletter on the form at the bottom of this page. We periodically, about once a month, send out an email with new products and/or special offers. You can unsubscribe at any time.